Hotels near Winter Rooftop Cinema at The Berkeley
Hotels near
Winter Rooftop Cinema at The Berkeley
All central London hotels
Check-in
Check-out
Guests
1 ADULT
2 ADULTS
1 ADULT, 1 CHILD (2-12 Years)
2 ADULTS, 1 CHILD (2-12 Years)
2 ADULTS, 2 CHILDREN (2-12 Years)
3 ADULTS
4 ADULTS
OTHER CONFIGURATION:

+ another room

Halkin Hotel London
London
>
Hotels
>
Luxury Chain Hotel
from £261

34% off
Halkin Street, SW1X 7DJ |

3 minutes walk from Winter Rooftop Cinema at The Berkeley




Located in London's fashionable Belgravia district, The Halkin has been setting the standard for luxurious, modern hotels since its opening in 1991. There's a boutique, designer

More
Hotels near Winter Rooftop Cinema at The Berkeley
Winter Rooftop Cinema at The Berkeley

Watch classic films like 'Miracle on 34th Street' and 'Love Actually' at the
Winter Rooftop Cinema
at
The Berkeley
hotel this winter when a pine-lined outdoor cinema takes over the rooftop pool terrace. With just four seats, this is London's most intimate outdoor cinema and, given its Knightsbridge address, the most exclusive. Open from 26th November 2012 until 31st January 2013 visitors can watch an al fresco winter movie while enjoying a homemade hot chocolate and mince pie, taking cover under a cosy blanket. Open to non-hotel guests on weekdays only with screenings at 5pm and 7pm.
Images of, and near, Winter Rooftop Cinema at The Berkeley
Winter Rooftop Cinema at The Berkeley Winter Rooftop Cinema at The Berkeley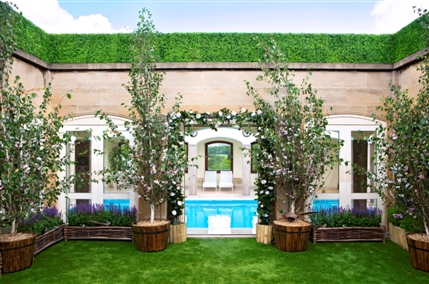 Customer Service - Speak to a London hotel expert

Telephone
From United States:
011 44 207 437 4370
8am to 11pm
Toll free: 1-800-986-9403
Free callback service:
We can call you back

Email
Email a London Expert
Send email

Live Chat
Advisors available now
Chat to a London Expert
Live chat
Speak to a
London Hotel Expert

Telephone
From UK:
020 7437 4370
Free callback service
If you prefer, we can call you back for free:
Call me back

Top rated hotels near Winter Rooftop Cinema at The Berkeley
Previous customers have given the highest customer satisfaction score to these five hotels near to Winter Rooftop Cinema at The Berkeley:
6 minutes walk away
Double room from £371
3 minutes walk away
Double room from £434
8 minutes walk away
Double room from £1900
5 minutes walk away
Double room from £453
9 minutes walk away
Double room from £97
Nearest hotels to Winter Rooftop Cinema at The Berkeley
There are 20 recommended places to stay within a 15 minutes walk from Winter Rooftop Cinema at The Berkeley:
The Park Tower Knightsbridge, a Luxury Collection Hotel, London ( 3 minutes)
Halkin Hotel London ( 3 minutes)
Millennium Hotel London Knightsbridge ( 5 minutes)
Jumeirah Carlton Tower Hotel ( 5 minutes)
InterContinental London Park Lane ( 5 minutes)
The Levin Hotel London ( 6 minutes)
Belgraves - A Thompson Hotel ( 6 minutes)
The Metropolitan Hotel London ( 7 minutes)
London Hilton on Park Lane ( 7 minutes)
45 Park Lane - Dorchester Collection ( 7 minutes)
Park Lane Mews Hotel ( 7 minutes)
Athenaeum Hotel London ( 8 minutes)
Hilton London Green Park Hotel ( 9 minutes)
Beaufort House Apartments ( 9 minutes)
The Goring Hotel London ( 10 minutes)
Cheval Phoenix House Apartments ( 10 minutes)
Cheval Knightsbridge Apartments ( 10 minutes)
Washington Mayfair Hotel ( 11 minutes)
Chesterfield Mayfair Hotel ( 11 minutes)
No.11 Cadogan Gardens ( 11 minutes)

Connect live to hotels' reservation system

Lowest rates available anywhere

Bookings made instantly with the hotel

Receive hotel's own reservation number

Pay the hotel directly

Our service is 100% FREE

LondonTown.com exclusive free extras

Hotel experts with 15 years experience

More about our customer service team