Hotels near Jumeirah One Blackfriars Road
FIND YOUR PERFECT LONDON HOTEL
Hotels near
Jumeirah One Blackfriars Road
All central London hotels
Room 1
Okay
Maximum 4 to a room.
+ Add another room
Most popular hotels near Jumeirah One Blackfriars Road
Mondrian London
London
>
Hotels
>
Luxury Chain Hotel
from £124

37% off
20 Upper Ground, SE1 9PD |

3 minutes walk from Jumeirah One Blackfriars Road




London landmark Sea Containers House, situated between the OXO Tower and Blackfriars Bridge on the South Bank, has been transformed into the Mondrian London, a luxury

More
Hilton London Bankside
London
>
Hotels
>
Mid-Range Chain Hotel
from £98

28% off
2-8 Great Suffolk Street, SE1 0UG |

4 minutes walk from Jumeirah One Blackfriars Road




The Hilton London Bankside is a purpose built hotel with a four-storey glass atrium, 292 rooms and fitness centre, complete with swimming pool, and an opulent

More
Find other hotels near Jumeirah One Blackfriars Road
Hotels near Jumeirah One Blackfriars Road
Jumeirah One Blackfriars Road

This hotel was due to open in 2011 but following a breakdown in relationships in the project partnership the project has been postponed. The site was purchased by Berkeley Group's St. George subsidiary in October 2011, leading to the renewed expectation that One Blackfriars Road Tower will be built at some stage in the future.A new landmark tower is planned for One Blackfriars Road on London's South Bank, at the junction of Blackfriars Road and Stamford Street, and Jumeirah -  the Dubai-based luxury hospitality company - plans to set up a brand new hotel on the lower floors. Pitched at the luxury end of the market, this new hotel will be located at the base of the 175 metre high glass tower, also known as Beetham Tower. It will feature 261 rooms, several restaurants and bars, a contemporary spa, state-of-the-art fitness facilities, a ballroom and a selection of conference and meeting rooms. Although plans for the tower, designed by Ian Simpson Architects - their third Beetham Tower following similar structures in Manchester and Birmingham - have hit a number of set backs the project is still going ahead and, as of April 2010, The Beetham Organisation has confirmed it will start work at two towers - this one and the Trinity in the City - next year, citing improved "market demand and conditions" for the decision. The plans not only include the luxury hotel but also feature a new plaza wrapping round the base of the tower with cafes and restaurants as well as access via an express elevator to a five-storey high public viewing gallery at the top. There will also be on-site provision for 32 affordable homes in an adjacent building on Rennie Street. The Jumeirah One Blackfriars Road will take the number of Jumeirah-managed hotels in London to three, joining its existing Knightsbridge hotels Jumeirah Carlton Tower and Jumeirah Lowndes Hotel.
Images of, and near, Jumeirah One Blackfriars Road
Jumeirah One Blackfriars Road Jumeirah One Blackfriars Road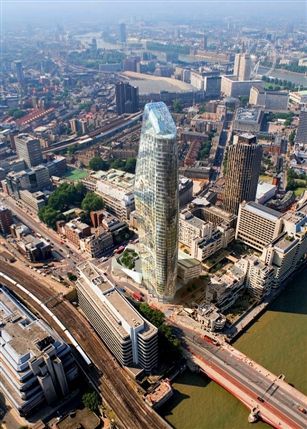 Customer Service - Speak to a London hotel expert

Email
Email a London Expert
Send email

Live Chat
Advisors available now
Chat to a London Expert
Live chat
Speak to a
London Hotel Expert

Telephone
From UK:
020 7437 4370
Free callback service
If you prefer, we can call you back for free:
Call me back

Top rated hotels near Jumeirah One Blackfriars Road
Previous customers have given the highest customer satisfaction score to these five hotels near to Jumeirah One Blackfriars Road:
4 minutes walk away
Double room from £134
3 minutes walk away
Double room from £169
9 minutes walk away
Double room from £196
8 minutes walk away
Double room from £134
7 minutes walk away
Double room from £204
Nearest hotels to Jumeirah One Blackfriars Road
There are 15 recommended places to stay within a 15 minutes walk from Jumeirah One Blackfriars Road:
Mondrian London ( 3 minutes)
Holiday Inn Express London Southwark ( 3 minutes)
Hilton London Bankside ( 4 minutes)
CitizenM London Bankside ( 5 minutes)
Crowne Plaza London The City ( 7 minutes)
Hampton by Hilton London Waterloo ( 8 minutes)
Grange St Paul's Hotel London ( 9 minutes)
Apex Temple Court Hotel ( 9 minutes)
Club Quarters St Pauls Hotel ( 10 minutes)
H10 London Waterloo Hotel ( 10 minutes)
The Bridge Hotel London ( 11 minutes)
Park Plaza County Hall Hotel London ( 12 minutes)
Park Plaza Westminster Bridge Hotel London ( 13 minutes)
Park Plaza London Waterloo ( 13 minutes)
ME London ( 13 minutes)

Connect live to hotels' reservation system

Lowest rates available anywhere

Bookings made instantly with the hotel

Receive hotel's own reservation number

Pay the hotel directly

Our service is 100% FREE

LondonTown.com exclusive free extras

Hotel experts with 15 years experience

More about our customer service team