Hotels near London 2012 Olympics Central Zone
FIND YOUR PERFECT LONDON HOTEL
Hotels near
London 2012 Olympics Central Zone
All central London hotels
Room 1
Okay
Maximum 4 to a room.
+ Add another room
Most popular hotels near London 2012 Olympics Central Zone
Club Quarters Trafalgar Square
London
>
Hotels
>
Mid-Range Chain Hotel
from £88

22% off
8 Northumberland Avenue, WC2N 5BY |

3 minutes walk from London 2012 Olympics Central Zone




A fantastic nineteenth century exterior hides a thoroughly modern hotel, with clean, minimalist design in the rooms. The biggest draw is the location, in the very

More
Find other hotels near London 2012 Olympics Central Zone
Hotels near London 2012 Olympics Central Zone
London 2012 Olympics Central Zone

London could never have hosted the Olympic Games without showcasing the historic sites of its spectacular city centre - and the London 2012 Central Zone will allow spectators from all around the world combine their sporting schedule with a spot of sightseeing. A stone's throw from Trafalgar Square, Horse Guards Parade will be transformed into a Beach Volleyball venue, Earls Court will host the Volleyball, Hyde Park the Triathlon and Marathon Swimming, Lord's Cricket Ground the archery, while the Cycling Road Race and Marathons will finish on The Mall in the shade of the Queen's official residence, Buckingham Palace. A touch further afar, the Tennis competition will take place on the pristine grass courts of Wimbledon's famous All England Club, Wembley Stadium will host the football finals and an array of games in the preliminary and knock-out stages, and Wembley Arena will hold the Badminton and Rhythmic Gymnastics programme. Outside the Greater London area - but still within easy reaching distance - are Eton Dorney (Rowing), Lee Valley White Water Centre (Canoeing) and Hampton Court (Road Cycling Time Trial).
Images of, and near, London 2012 Olympics Central Zone
London 2012 Olympics Central Zone London 2012 Olympics Central Zone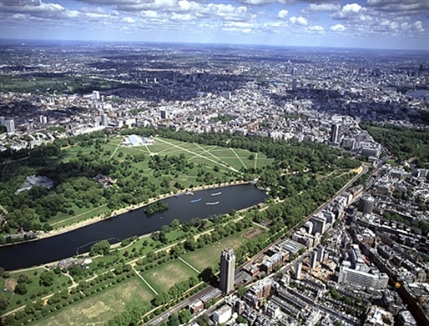 Customer Service - Speak to a London hotel expert

Email
Email a London Expert
Send email

Live Chat
Advisors available now
Chat to a London Expert
Live chat
Speak to a
London Hotel Expert

Telephone
From UK:
020 7437 4370
Free callback service
If you prefer, we can call you back for free:
Call me back

Top rated hotels near London 2012 Olympics Central Zone
Previous customers have given the highest customer satisfaction score to these five hotels near to London 2012 Olympics Central Zone:
3 minutes walk away
Double room from £395
9 minutes walk away
Double room from £340
8 minutes walk away
Double room from £248
6 minutes walk away
Double room from £193
5 minutes walk away
Double room from £237
Nearest hotels to London 2012 Olympics Central Zone
There are 20 recommended places to stay within a 15 minutes walk from London 2012 Olympics Central Zone:
The Royal Horseguards - A Guoman Hotel ( 3 minutes)
Club Quarters Trafalgar Square ( 3 minutes)
The Grand at Trafalgar Square ( 3 minutes)
The Trafalgar St. James London, Curio Collection by Hilton ( 3 minutes)
Corinthia Hotel London ( 3 minutes)
Amba Hotel Charing Cross ( 5 minutes)
Thistle Trafalgar Square, The Royal Trafalgar ( 6 minutes)
Radisson Blu Edwardian Hampshire Hotel ( 7 minutes)
St Martins Lane, A Morgans Original ( 7 minutes)
Every Hotel Piccadilly ( 8 minutes)
Conrad London St. James ( 9 minutes)
Cavendish London Hotel ( 10 minutes)
Strand Palace Hotel London ( 10 minutes)
Le Meridien Piccadilly ( 10 minutes)
Cafe Royal Hotel ( 10 minutes)
Park Plaza County Hall Hotel London ( 11 minutes)
St. James's Hotel & Club London ( 11 minutes)
The Stafford London Hotel ( 11 minutes)
Park Plaza Westminster Bridge Hotel London ( 11 minutes)
ME London ( 12 minutes)

Connect live to hotels' reservation system

Lowest rates available anywhere

Bookings made instantly with the hotel

Receive hotel's own reservation number

Pay the hotel directly

Our service is 100% FREE

LondonTown.com exclusive free extras

Hotel experts with 15 years experience

More about our customer service team