Hotels near London Olympics Energy Centre
FIND YOUR PERFECT LONDON HOTEL
Hotels near
London Olympics Energy Centre
All central London hotels
Room 1
Okay
Maximum 4 to a room.
+ Add another room
Most popular hotels near London Olympics Energy Centre
Find other hotels near London Olympics Energy Centre
Hotels near London Olympics Energy Centre
London Olympics Energy Centre

As proof of London 2012's commitment to use renewable and energy-efficient technology, a state-of-the-art Energy Centre will provide power, heating and cooling across the whole Olympic Park for the entire duration of the Games - and beyond. Located in the west of the Park below the Handball Arena, the innovative Energy Centre has a biomass boiled that uses woodchip as fuel to generate heat, and a natural gas powered Combined Cooling, Heat and Power plant (CCHP). The environmental and economic benefits include a huge reduction of carbon emissions - while the design of the Centre is both flexible and sustainable to allow it to be adapted as technology progresses. After the Games, the Centre will continue to support the permanent Olympic venues as well as the new buildings and communities that will develop after 2012. A second Energy Centre has been built in the Stratford City development to provide power, heat and cooling for the on-going project, set for completion in 2020.
Images of, and near, London Olympics Energy Centre
London Olympics Energy Centre London Olympics Energy Centre - London 2012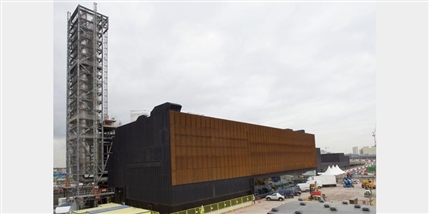 Customer Service - Speak to a London hotel expert

Email
Email a London Expert
Send email

Live Chat
Advisors available now
Chat to a London Expert
Live chat
Speak to a
London Hotel Expert

Telephone
From UK:
020 7437 4370
Free callback service
If you prefer, we can call you back for free:
Call me back


Connect live to hotels' reservation system

Lowest rates available anywhere

Bookings made instantly with the hotel

Receive hotel's own reservation number

Pay the hotel directly

Our service is 100% FREE

LondonTown.com exclusive free extras

Hotel experts with 15 years experience

More about our customer service team