Hotels near White Cube Bermondsey
FIND YOUR PERFECT LONDON HOTEL
Hotels near
White Cube Bermondsey
All central London hotels
Room 1
Okay
Maximum 4 to a room.
+ Add another room
Most popular hotels near White Cube Bermondsey
The Tower Hotel
London
>
Hotels
>
Mid-Range Chain Hotel
from £56

21% off
Guoman Tower, E1Q 1LD |

12 minutes walk from White Cube Bermondsey




It's the location on the River Thames that give this hotel next to the Tower of London and Tower Bridge a wow factor. It's also very

More
Cheval Three Quays Apartments
London
>
Hotels
>
Apartment
from £146

40% off
40 Lower Thames Street, EC3R 6AG |

13 minutes walk from White Cube Bermondsey




Perfect for feeling home away from home, the Cheval Three Quays offers multi-award winning accommodation in the heart of the City of London, boasting views across

More
Find other hotels near White Cube Bermondsey
Hotels near White Cube Bermondsey
White Cube Bermondsey

Jay Jopling's third - and largest - White Cube art gallery in London is located on Bermondsey Street and set in a former 1970s warehouse. At a massive 58,000 square feet White Cube Bermondsey Street is not only the largest art gallery within Jopling's White Cube empire but also the largest commercial gallery in Europe. A timely opening during the 2011 Frieze art fair, on 12 October 2011, launched the gallery to the world's richest and most influential art buyers. Designed by Casper Mueller Kneer Architects, the building has three principal exhibition spaces, substantial warehousing, private viewing rooms, an auditorium and a bookshop. The exhibition spaces are divided into the 'South Galleries', the principal display area, three smaller 'North Galleries', and the '9 x 9 x 9' gallery at the centre of the building. Frequently changing exhibitions by contemporary artists of the calibre of Jopling favourite Damien Hirst are supplemented by an education programme, artists' films and lectures. The first White Cube - one of the smallest exhibition spaces in Europe - was set up in Duke Street (1993-2002), not far from the current White Cube Mason's Yard which opened in September 2006, six years after White Cube Hoxton Square opened in April 2000.
Images of, and near, White Cube Bermondsey
White Cube Bermondsey White Cube Bermondsey - photo by Ben Westoby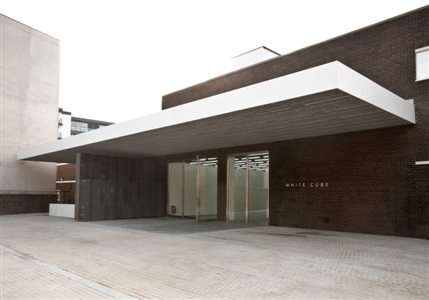 Customer Service - Speak to a London hotel expert

Email
Email a London Expert
Send email

Live Chat
Advisors available now
Chat to a London Expert
Live chat
Speak to a
London Hotel Expert

Telephone
From UK:
020 7437 4370
Free callback service
If you prefer, we can call you back for free:
Call me back

Top rated hotels near White Cube Bermondsey
Previous customers have given the highest customer satisfaction score to these two hotels near to White Cube Bermondsey:
8 minutes walk away
Double room from £113
2 minutes walk away
Double room from £225
Nearest hotels to White Cube Bermondsey
There are 4 recommended places to stay within a 15 minutes walk from White Cube Bermondsey:
The Bermondsey Square Hotel ( 2 minutes)
Hilton London Tower Bridge ( 8 minutes)
The Tower Hotel ( 12 minutes)
Cheval Three Quays Apartments ( 13 minutes)

Connect live to hotels' reservation system

Lowest rates available anywhere

Bookings made instantly with the hotel

Receive hotel's own reservation number

Pay the hotel directly

Our service is 100% FREE

LondonTown.com exclusive free extras

Hotel experts with 15 years experience

More about our customer service team