Hotels near The Rite of Spring/Petrushka
FIND YOUR PERFECT LONDON HOTEL
Hotels near
The Rite of Spring/Petrushka
All central London hotels
Room 1
Okay
Maximum 4 to a room.
+ Add another room
Most popular hotels near The Rite of Spring/Petrushka
Thistle City Barbican Hotel
London
>
Hotels
>
Budget Chain Hotel
from £43

26% off
Central Street, EC1V 8DS |

8 minutes walk from The Rite of Spring/Petrushka




Near to the City, and convenient for the The Barbican arts centre and Moorfields Eye Hospital, this hotel is modern, clean and functional. Equipped with its

More
Find other hotels near The Rite of Spring/Petrushka
Hotels near The Rite of Spring/Petrushka
The Rite of Spring/Petrushka

Celebrating the 100th anniversary of one of the 20th century's great masterpieces,
Sadler's Wells
associate artist Michael Keegan-Dolan brings his Olivier-nominated version of
The Rite of Spring
for a very limited run. Keegan-Dolan's version of Stravinsky's ground-breaking ballet premiered at the London Coliseum in 2009 to great critical acclaim, described as one of the few accounts that truly realised the Russian composer's vision ("As exhilerating as it is harrowing," says The Times). The evening is completed by Keegan-Dolan's new interpretation of
Petrushka
, composed by Stravinsky in 1911, to be performed by the exceptional dancers of Fabulous Beast Dance Theatre. This is the first of three events in
A String of Rites
, a series dedicated to Stravinsky's masterpiece.
Images of, and near, The Rite of Spring/Petrushka
The Rite of Spring/Petrushka The Rite of Spring/Petrushka - Image by Johan Persson and ENO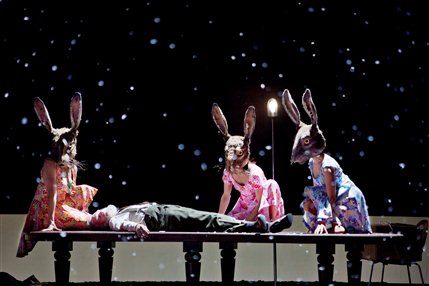 Customer Service - Speak to a London hotel expert

Email
Email a London Expert
Send email
Speak to a
London Hotel Expert

Telephone
From UK:
020 7437 4370
Free callback service
If you prefer, we can call you back for free:
Call me back

Top rated hotels near The Rite of Spring/Petrushka
Previous customers have given the highest customer satisfaction score to these five hotels near to The Rite of Spring/Petrushka:
5 minutes walk away
Double room from £97
9 minutes walk away
Double room from £395
9 minutes walk away
Double room from £106
7 minutes walk away
Double room from £63
8 minutes walk away
Double room from £69
Nearest hotels to The Rite of Spring/Petrushka
There are 7 recommended places to stay within a 15 minutes walk from The Rite of Spring/Petrushka:
DoubleTree by Hilton London - Islington ( 5 minutes)
Crowne Plaza Kings Cross ( 7 minutes)
Thistle City Barbican Hotel ( 8 minutes)
Hilton London Islington Hotel ( 9 minutes)
The Zetter Hotel London ( 9 minutes)
The Zetter Townhouse Clerkenwell ( 9 minutes)
Goodenough Club ( 12 minutes)

Connect live to hotels' reservation system

Lowest rates available anywhere

Bookings made instantly with the hotel

Receive hotel's own reservation number

Pay the hotel directly

Our service is 100% FREE

LondonTown.com exclusive free extras

Hotel experts with 15 years experience

More about our customer service team