Hotels near St Paul's Church Knightsbridge
FIND YOUR PERFECT LONDON HOTEL
Hotels near
St Paul's Church Knightsbridge
All central London hotels
Room 1
Okay
Maximum 4 to a room.
+ Add another room
Most popular hotels near St Paul's Church Knightsbridge
Halkin Hotel London
London
>
Hotels
>
Luxury Chain Hotel
from £179

23% off
Halkin Street, SW1X 7DJ |

3 minutes walk from St Paul's Church Knightsbridge




Located in London's fashionable Belgravia district, The Halkin has been setting the standard for luxurious, modern hotels since its opening in 1991. There's a boutique, designer

More
Find other hotels near St Paul's Church Knightsbridge
Hotels near St Paul's Church Knightsbridge
St Paul's Church Knightsbridge

Since the first foundation stone of St Paul's Church was laid in 1840 the church has been a focus for the Christian community who live in this part of Knightsbridge. This beautiful Victorian church, set in the heart of the Grosvenor Estate on Wilton Place in Belgravia, has been frequented by prime ministers and royalty. The Duke of Wellington, prime minister from 1828 to 1830, was among the congregation, so too was Lord John Russell (prime minister from 1846 to 1852), and wartime PM Winston Churchill, was witness to the marriage of his mother Lady Randolph Churchill and Captain George Cornwallis-West in 1900 - the register still bears his signature today. St Paul's Knightsbridge has also seen royalty perch on its pews when, in the 1950s, the then Queen Elizabeth occasionally attended, accompanied by Princess Margaret. More recently, in 1992, Queen paid a visit. Their doors are open every day, if possible. The Wednesday Evening Service is a time for quiet contemplation while Sunday is a hive of activity with a child-friendly 9 o'clock Family Mass, followed by an 11 o'clock Solemn Eucharist.
Images of, and near, St Paul's Church Knightsbridge
St Paul's Church Knightsbridge St Paul's Church Knightsbridge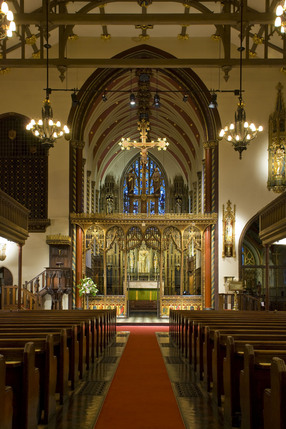 Customer Service - Speak to a London hotel expert

Email
Email a London Expert
Send email

Live Chat
Advisors available now
Chat to a London Expert
Live chat
Speak to a
London Hotel Expert

Telephone
From UK:
020 7437 4370
Free callback service
If you prefer, we can call you back for free:
Call me back

Top rated hotels near St Paul's Church Knightsbridge
Previous customers have given the highest customer satisfaction score to these five hotels near to St Paul's Church Knightsbridge:
3 minutes walk away
Double room from £396
6 minutes walk away
Double room from £205
8 minutes walk away
Double room from £400
5 minutes walk away
Double room from £413
9 minutes walk away
Double room from £133
Nearest hotels to St Paul's Church Knightsbridge
There are 20 recommended places to stay within a 15 minutes walk from St Paul's Church Knightsbridge:
Halkin Hotel London ( 3 minutes)
Millennium Hotel London Knightsbridge ( 5 minutes)
InterContinental London Park Lane ( 5 minutes)
The Levin Hotel London ( 6 minutes)
The Hari ( 6 minutes)
Metropolitan by Como, London ( 7 minutes)
London Hilton on Park Lane ( 7 minutes)
Park Lane Mews Hotel ( 7 minutes)
Athenaeum Hotel London ( 8 minutes)
Hilton London Green Park Hotel ( 9 minutes)
The Goring Hotel London ( 10 minutes)
Cheval Phoenix House Apartments ( 10 minutes)
Cheval Knightsbridge Apartments ( 10 minutes)
Washington Mayfair Hotel ( 11 minutes)
Chesterfield Mayfair Hotel ( 11 minutes)
No.11 Cadogan Gardens ( 11 minutes)
41 Hotel London ( 11 minutes)
The Rubens at the Palace Hotel ( 11 minutes)
The Nadler Victoria Hotel ( 11 minutes)
Sloane Square Hotel London ( 12 minutes)

Connect live to hotels' reservation system

Lowest rates available anywhere

Bookings made instantly with the hotel

Receive hotel's own reservation number

Pay the hotel directly

Our service is 100% FREE

LondonTown.com exclusive free extras

Hotel experts with 15 years experience

More about our customer service team