Hotels near London Handel Festival
Hotels near
London Handel Festival
All central London hotels
Check-in
Check-out
Guests
1 ADULT
2 ADULTS
1 ADULT, 1 CHILD (2-12 Years)
2 ADULTS, 1 CHILD (2-12 Years)
2 ADULTS, 2 CHILDREN (2-12 Years)
3 ADULTS
4 ADULTS
OTHER CONFIGURATION:

+ another room

No 5 Maddox Street London
London
>
Hotels
>
Apartment
from £150

22% off
5 Maddox Street, W1S 2QD |

2 minutes walk from London Handel Festival




Edgy, urban and very hip, these distinguished apartments are a shopper's seventh heaven. Located near Regents Street, Maddox Street is a stylish sanctuary of tranquility offering

More
The Courthouse Hotel
London
>
Hotels
>
Luxury Chain Hotel
from £127

28% off
19 - 21 Great Marlborough Street, W1F 7HL |

4 minutes walk from London Handel Festival




A swimming pool, spa, fitness room and a range of meeting rooms have been sympathetically accommodated within this historic 5-star Soho hotel. A Grade II listed

More
Hotels near London Handel Festival
London Handel Festival

The
London Handel Festival
has been running for over 25 years, celebrating Handel's music at venues across London with an extensive six-week season of concerts, talks and walks. Venues include the delightful
St George's Church
in Mayfair, Handel's own parish church, where the Handel Singing Competition and dozens of intimate performances take place. This year's programme begins in March with a performance of Semele at the Queen Elizabeth Hall. Collaborations with the Royal College of Music continue with the opportunity to attend the modern UK premiere of Handel's 1739 pastiche Giove in Argo.
Images of, and near, London Handel Festival
London Handel Festival London Handel Festival - Ricardo Primo production 2012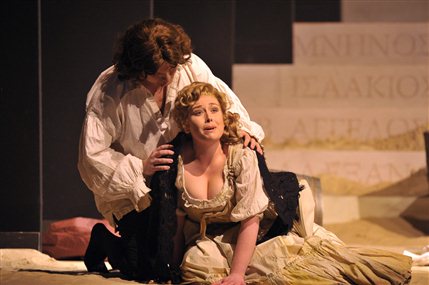 Customer Service - Speak to a London hotel expert

Telephone
From United States:
011 44 207 437 4370
8am to 11pm
Toll free: 1-800-986-9403
Free callback service:
We can call you back

Email
Email a London Expert
Send email

Live Chat
Advisors available now
Chat to a London Expert
Live chat
Speak to a
London Hotel Expert

Telephone
From UK:
020 7437 4370
Free callback service
If you prefer, we can call you back for free:
Call me back

Top rated hotels near London Handel Festival
Previous customers have given the highest customer satisfaction score to these five hotels near to London Handel Festival:
7 minutes walk away
Double room from £917
2 minutes walk away
Double room from £413
7 minutes walk away
Double room from £163
8 minutes walk away
Double room from £113
9 minutes walk away
Double room from £1008
Nearest hotels to London Handel Festival
There are 20 recommended places to stay within a 15 minutes walk from London Handel Festival:
Westbury Mayfair Hotel London ( 2 minutes)
No 5 Maddox Street London ( 2 minutes)
The Courthouse Hotel ( 4 minutes)
Holiday Inn London Mayfair ( 5 minutes)
Radisson Blu Edwardian Berkshire Hotel ( 5 minutes)
Cafe Royal Hotel ( 7 minutes)
Le Meridien Piccadilly ( 7 minutes)
The May Fair Hotel London ( 7 minutes)
Marriott Hotel Grosvenor Square ( 7 minutes)
Langham Hotel London ( 7 minutes)
Millennium Hotel London Mayfair ( 7 minutes)
Chesterfield Mayfair Hotel ( 7 minutes)
Cavendish London Hotel ( 8 minutes)
Washington Mayfair Hotel ( 8 minutes)
Holiday Inn Oxford Circus ( 8 minutes)
The Beaumont Hotel ( 8 minutes)
Sanderson, A Morgans Hotel ( 8 minutes)
The London EDITION ( 8 minutes)
Mandeville Hotel London ( 9 minutes)
St. James's Hotel & Club London ( 9 minutes)

Connect live to hotels' reservation system

Lowest rates available anywhere

Bookings made instantly with the hotel

Receive hotel's own reservation number

Pay the hotel directly

Our service is 100% FREE

LondonTown.com exclusive free extras

Hotel experts with 15 years experience

More about our customer service team