Hotels near Sophie's Steakhouse and Bar
Hotels near
Sophie's Steakhouse and Bar
All central London hotels
Check-in
Check-out
Guests
1 ADULT
2 ADULTS
1 ADULT, 1 CHILD (2-12 Years)
2 ADULTS, 1 CHILD (2-12 Years)
2 ADULTS, 2 CHILDREN (2-12 Years)
3 ADULTS
4 ADULTS
OTHER CONFIGURATION:

+ another room

ME London
London
>
Hotels
>
Luxury Chain Hotel
from £192

42% off
336-337 The Strand, WC2R 1HA |

2 minutes walk from Sophie's Steakhouse and Bar




A luxurious 5-star hotel situated right in the heart of the city, ME London offers guests a lavish accommodation experience. Floor-to-ceiling windows provide the impeccable guestrooms

More
Hotels near Sophie's Steakhouse and Bar
Sophie's Steakhouse and Bar

Described as a true steakhouse by the Observer's food critic Jay Rayner, flagship restaurant Sophie's Steakhouse and Bar in Covent Garden offers the best of American cuisine. With a seat capacity of 220, the eatery is perfect for a business lunch or a quick bite after a day of boutique shopping in nearby Neal's Yard & Long Acre. Serving giant martini's and vibrant cocktails until 1am from Monday to Saturday, those attending a West End theatre show in the area are presented with a special pre and post show theatre menu.
Images of, and near, Sophie's Steakhouse and Bar
Sophie's Steakhouse and Bar Sophie's Steakhouse and Bar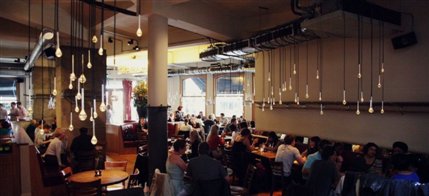 Customer Service - Speak to a London hotel expert

Telephone
From United States:
011 44 207 437 4370
8am to 11pm
Toll free: 1-800-986-9403
Free callback service:
We can call you back

Email
Email a London Expert
Send email

Live Chat
Advisors available now
Chat to a London Expert
Live chat
Speak to a
London Hotel Expert

Telephone
From UK:
020 7437 4370
Free callback service
If you prefer, we can call you back for free:
Call me back

Top rated hotels near Sophie's Steakhouse and Bar
Previous customers have given the highest customer satisfaction score to these five hotels near to Sophie's Steakhouse and Bar:
8 minutes walk away
Double room from £750
9 minutes walk away
Double room from £140
8 minutes walk away
Double room from £239
9 minutes walk away
Double room from £529
6 minutes walk away
Double room from £160
Nearest hotels to Sophie's Steakhouse and Bar
There are 20 recommended places to stay within a 15 minutes walk from Sophie's Steakhouse and Bar:
Strand Palace Hotel London ( 1 minutes)
The Waldorf Hilton Hotel London ( 2 minutes)
ME London ( 2 minutes)
Kingsway Hall Hotel London ( 5 minutes)
St Martins Lane, A Morgans Original ( 5 minutes)
Amba Hotel Charing Cross ( 6 minutes)
Club Quarters Lincoln's Inn Fields ( 6 minutes)
Radisson Blu Edwardian Mercer Street ( 6 minutes)
Citadines Trafalgar Square Apart-Hotel ( 7 minutes)
Corinthia Hotel London ( 8 minutes)
Radisson Blu Edwardian Hampshire Hotel ( 8 minutes)
The Trafalgar Hotel London ( 8 minutes)
Club Quarters Trafalgar Square ( 8 minutes)
The Grand at Trafalgar Square ( 8 minutes)
Rosewood London ( 8 minutes)
Thistle Trafalgar Square, The Royal Trafalgar ( 9 minutes)
The Royal Horseguards - A Guoman Hotel ( 9 minutes)
Citadines Holborn Covent Garden Apart-Hotel ( 9 minutes)
Thistle Holborn, The Kingsley ( 9 minutes)
Every Hotel Piccadilly ( 9 minutes)

Connect live to hotels' reservation system

Lowest rates available anywhere

Bookings made instantly with the hotel

Receive hotel's own reservation number

Pay the hotel directly

Our service is 100% FREE

LondonTown.com exclusive free extras

Hotel experts with 15 years experience

More about our customer service team