Hotels near Dirty Great Love Story
Hazlitt's Hotel London
London
>
Hotels
>
Mid-Range Chain Hotel
from £141

39% off
6 Frith Street, W1D 3JA |

1 minute walk from Dirty Great Love Story




If you're bored of staying in faceless international hotels, then you should try this quirky gem where no two rooms are the same. Georgian panelling, cavernous

More
The Soho Hotel
London
>
Hotels
>
Luxury Chain Hotel
from £220

26% off
4 Richmond Mews, W1D 3DH |

1 minute walk from Dirty Great Love Story




A wonderful thing about Soho is that in spite of the mad chaos that carries on all night in this unique and thrilling part of London,

More
The Groucho Club
London
>
Hotels
>
Mid-Range Chain Hotel
45 Dean Street, W1D 4QB |

2 minutes walk from Dirty Great Love Story




Formed in 1985, The Groucho Club is a private members club that's open to men and women. With accommodation available to its members, there are 20

More
Hotels near Dirty Great Love Story
Dirty Great Love Story

Following rave reviews while on show at the 2012 Edinburgh Festival Fringe,
Dirty Great Love Story
returns to the
Soho Theatre
for a highly anticipated three-week run. The award-winning romantic comedy tells the story of Rich and Kate, who are both eager for some romancing. After spending a drunken night together, the unlikely lovers struggle to avoid each other and become bound by an unexpected turn of events. Packed with a series of laugh-out-loud moments, the production fuses poetry and prose, asking the big question: are they really right for each other? Co-written and performed by Richard Marsh and Katie Bonna, this very human story strikes all the right chords.
Images of, and near, Dirty Great Love Story
Dirty Great Love Story Dirty Great Love Story - Credit Richard Davenport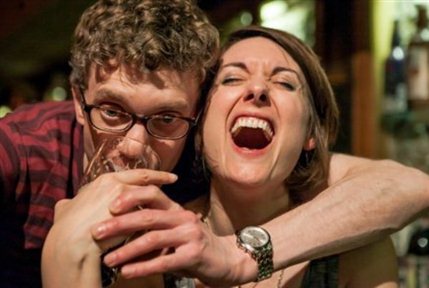 Customer Service - Speak to a London hotel expert

Telephone
From United States:
011 44 207 437 4370
8am to 11pm
Toll free: 1-800-986-9403
Free callback service:
We can call you back

Email
Email a London Expert
Send email

Live Chat
Advisors available now
Chat to a London Expert
Live chat
Speak to a
London Hotel Expert

Telephone
From UK:
020 7437 4370
Free callback service
If you prefer, we can call you back for free:
Call me back

Top rated hotels near Dirty Great Love Story
Previous customers have given the highest customer satisfaction score to these five hotels near to Dirty Great Love Story:
7 minutes walk away
Double room from £496
6 minutes walk away
Double room from £135
7 minutes walk away
Double room from £127
8 minutes walk away
Double room from £93
5 minutes walk away
Double room from £281
Nearest hotels to Dirty Great Love Story
There are 20 recommended places to stay within a 15 minutes walk from Dirty Great Love Story:
Hazlitt's Hotel London ( 1 minutes)
The Soho Hotel ( 1 minutes)
The Groucho Club ( 2 minutes)
The London EDITION ( 5 minutes)
Radisson Blu Edwardian Mercer Street ( 5 minutes)
W London Leicester Square ( 5 minutes)
Sanderson, A Morgans Hotel ( 5 minutes)
Charlotte Street Hotel ( 6 minutes)
The Courthouse Hotel ( 6 minutes)
Thistle Piccadilly Hotel London ( 6 minutes)
Radisson Blu Edwardian Bloomsbury Street Hotel ( 6 minutes)
myhotel Bloomsbury London ( 6 minutes)
The Rathbone Hotel London ( 6 minutes)
Radisson Blu Edwardian Kenilworth Hotel ( 6 minutes)
Radisson Blu Edwardian Hampshire Hotel ( 7 minutes)
Cafe Royal Hotel ( 7 minutes)
Le Meridien Piccadilly ( 7 minutes)
Thistle Trafalgar Square, The Royal Trafalgar ( 7 minutes)
No 5 Maddox Street London ( 7 minutes)
St Martins Lane, A Morgans Original ( 8 minutes)

Connect live to hotels' reservation system

Lowest rates available anywhere

Bookings made instantly with the hotel

Receive hotel's own reservation number

Pay the hotel directly

Our service is 100% FREE

LondonTown.com exclusive free extras

Hotel experts with 15 years experience

More about our customer service team