Hotels near BFI Flare: London LGBT Film Festival
Hotels near
BFI Flare: London LGBT Film Festival
All central London hotels
Check-in
Check-out
Guests
1 ADULT
2 ADULTS
1 ADULT, 1 CHILD (2-12 Years)
2 ADULTS, 1 CHILD (2-12 Years)
2 ADULTS, 2 CHILDREN (2-12 Years)
3 ADULTS
4 ADULTS
OTHER CONFIGURATION:

+ another room

Hotels near BFI Flare: London LGBT Film Festival
BFI Flare: London LGBT Film Festival

Showcasing the best in new queer film and video, the
BFI Flare: London LGBT Film Festival
(previously known as the BFI London Lesbian & Gay Festival or LLGFF) returns for its 29th year in 2015 with an exciting programme which kicks off with a screening of Justin Kelly's 'I Am Michael', starring James Franco and Zachary Quinto, on the opening night. Over 50 features and 100 short films representing the best in contemporary and archive LGBT cinema from around the world are due to be shown at this year's festival. The long-running event, the third largest film festival in the UK, also includes industry events, late night DJs in the bar on Fridays and Saturdays and attracts hundreds of filmmakers, cast, crew as more than 250,000 visitors flock to the city for a festival programme that gets bigger year-on-year.
Images of, and near, BFI Flare: London LGBT Film Festival
BFI Flare: London LGBT Film Festival BFI Flare: London LGBT Film Festival - I Am Michael (2015)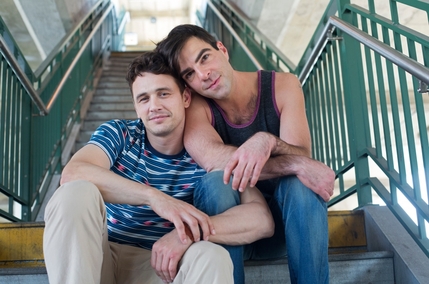 Customer Service - Speak to a London hotel expert

Telephone
From United States:
011 44 207 437 4370
8am to 11pm
Free callback service:
We can call you back

Email
Email a London Expert
Send email

Live Chat
Advisors available now
Chat to a London Expert
Live chat
Speak to a
London Hotel Expert

Telephone
From UK:
020 7437 4370
Free callback service
If you prefer, we can call you back for free:
Call me back

Top rated hotels near BFI Flare: London LGBT Film Festival
Previous customers have given the highest customer satisfaction score to these five hotels near to BFI Flare: London LGBT Film Festival:
7 minutes walk away
Double room from £565
8 minutes walk away
Double room from £139
8 minutes walk away
Double room from £452
8 minutes walk away
Double room from £215
7 minutes walk away
Double room from £135
Nearest hotels to BFI Flare: London LGBT Film Festival
There are 20 recommended places to stay within a 15 minutes walk from BFI Flare: London LGBT Film Festival:
Park Plaza County Hall Hotel London ( 7 minutes)
Mondrian London ( 7 minutes)
The Royal Horseguards - A Guoman Hotel ( 7 minutes)
Strand Palace Hotel London ( 7 minutes)
Corinthia Hotel London ( 7 minutes)
ME London ( 8 minutes)
Citadines Trafalgar Square Apart-Hotel ( 8 minutes)
Amba Hotel Charing Cross ( 8 minutes)
Park Plaza Westminster Bridge Hotel London ( 8 minutes)
The Waldorf Hilton Hotel London ( 9 minutes)
Tune Hotel - Westminster, London ( 9 minutes)
The Grand at Trafalgar Square ( 10 minutes)
Club Quarters Trafalgar Square ( 10 minutes)
Hampton by Hilton London Waterloo ( 10 minutes)
The Trafalgar Hotel London ( 10 minutes)
St Martins Lane, A Morgans Original ( 11 minutes)
Apex Temple Court Hotel ( 11 minutes)
Holiday Inn Express London Southwark ( 11 minutes)
Crowne Plaza London The City ( 12 minutes)
Hilton London Bankside ( 12 minutes)

Connect live to hotels' reservation system

Lowest rates available anywhere

Bookings made instantly with the hotel

Receive hotel's own reservation number

Pay the hotel directly

Our service is 100% FREE

LondonTown.com exclusive free extras

Hotel experts with 15 years experience

More about our customer service team