Hotels near Doctor Who: Tomb of the Cybermen
Hotels near
Doctor Who: Tomb of the Cybermen
All central London hotels
Check-in
Check-out
Guests
1 ADULT
2 ADULTS
1 ADULT, 1 CHILD (2-12 Years)
2 ADULTS, 1 CHILD (2-12 Years)
2 ADULTS, 2 CHILDREN (2-12 Years)
3 ADULTS
4 ADULTS
OTHER CONFIGURATION:

+ another room

Hotels near Doctor Who: Tomb of the Cybermen
Doctor Who: Tomb of the Cybermen

The
BFI
continues its monthly countdown to November's 50th anniversary of
Doctor Who
with a Saturday afternoon screening of the episode that most ardent fans cite as the true zenith of the Cybermen - The Doctor's most persistent enemies alongside the infamous Daleks.
Tomb of the Cybermen
(1967) gave fans of the BBC science fiction drama the first taste of the show's second Doctor, Patrick Troughton, who reinvented the character as a mischievous and witty soul with unexpected steel beneath his apparent bonhomie. Who addicts will delight in this episode, which delivers some key strands within the over-arching mythology of the show. The screening will be followed by a guest Q&A.
Images of, and near, Doctor Who: Tomb of the Cybermen
Doctor Who: Tomb of the Cybermen Doctor Who: Tomb of the Cybermen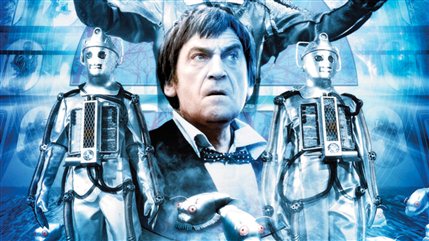 Customer Service - Speak to a London hotel expert

Telephone
From United States:
011 44 207 437 4370
8am to 11pm
Toll free: 1-800-986-9403
Free callback service:
We can call you back

Email
Email a London Expert
Send email

Live Chat
Advisors available now
Chat to a London Expert
Live chat
Speak to a
London Hotel Expert

Telephone
From UK:
020 7437 4370
Free callback service
If you prefer, we can call you back for free:
Call me back

Top rated hotels near Doctor Who: Tomb of the Cybermen
Previous customers have given the highest customer satisfaction score to these five hotels near to Doctor Who: Tomb of the Cybermen:
7 minutes walk away
Double room from £335
8 minutes walk away
Double room from £184
7 minutes walk away
Double room from £126
8 minutes walk away
Double room from £441
7 minutes walk away
Double room from £106
Nearest hotels to Doctor Who: Tomb of the Cybermen
There are 20 recommended places to stay within a 15 minutes walk from Doctor Who: Tomb of the Cybermen:
Park Plaza County Hall Hotel London ( 7 minutes)
Corinthia Hotel London ( 7 minutes)
Strand Palace Hotel London ( 7 minutes)
Mondrian London ( 7 minutes)
The Royal Horseguards - A Guoman Hotel ( 7 minutes)
ME London ( 8 minutes)
Amba Hotel Charing Cross ( 8 minutes)
Park Plaza Westminster Bridge Hotel London ( 8 minutes)
The Waldorf Hilton Hotel London ( 9 minutes)
The Trafalgar Hotel London ( 10 minutes)
Club Quarters Trafalgar Square ( 10 minutes)
Hampton by Hilton London Waterloo ( 10 minutes)
The Grand at Trafalgar Square ( 10 minutes)
St Martins Lane, A Morgans Original ( 11 minutes)
Apex Temple Court Hotel ( 11 minutes)
Holiday Inn Express London Southwark ( 11 minutes)
Crowne Plaza London The City ( 12 minutes)
Thistle Trafalgar Square, The Royal Trafalgar ( 13 minutes)
Radisson Blu Edwardian Hampshire Hotel ( 13 minutes)
Club Quarters Lincoln's Inn Fields ( 13 minutes)

Connect live to hotels' reservation system

Lowest rates available anywhere

Bookings made instantly with the hotel

Receive hotel's own reservation number

Pay the hotel directly

Our service is 100% FREE

LondonTown.com exclusive free extras

Hotel experts with 15 years experience

More about our customer service team