Hotels near Black Maria
FIND YOUR PERFECT LONDON HOTEL
All central London hotels
Room 1
Okay
Maximum 4 to a room.
+ Add another room
Most popular hotels near Black Maria
Find other hotels near Black Maria
Hotels near Black Maria
Black Maria

The second commission of Relay, a nine-year arts programme in the King's Cross area,
Black Maria
is a structure created by artist Richard Wentworth and Swiss architecture practice GRUPPE that acts as a meeting place for discussion, performance and moving images. Launching on 12th February 2013 for a month initially, with the possibility that it will be brought back at a later date, Black Maria is reminiscent of an early film studio of the same name. Installed in 'The Crossing', the atrium that joins the historic Granary Building to the new Central St Martin's School of Art and Design, the temporary space provides a home for scheduled talks and screenings, but also a place where people can sit, talk, eat lunch and simply be.
Images of, and near, Black Maria
Black Maria Black Maria - Black Maria, by Richard Wentworth and Swiss architecture practice GRUPPE, King's Cross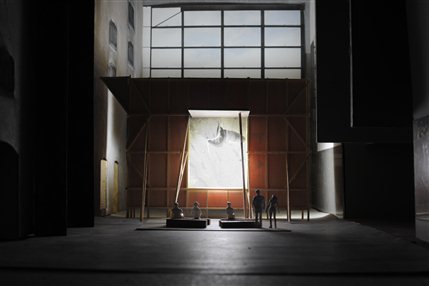 Customer Service - Speak to a London hotel expert

Email
Email a London Expert
Send email

Live Chat
Advisors available now
Chat to a London Expert
Live chat
Speak to a
London Hotel Expert

Telephone
From UK:
020 7437 4370
Free callback service
If you prefer, we can call you back for free:
Call me back

Nearest hotels to Black Maria
There are 5 recommended places to stay within a 15 minutes walk from Black Maria:
Hilton London Euston Hotel ( 11 minutes)
ibis London Euston St Pancras ( 12 minutes)
DoubleTree by Hilton London - Islington ( 12 minutes)
Crowne Plaza Kings Cross ( 13 minutes)
Holiday Inn London Bloomsbury ( 13 minutes)

Connect live to hotels' reservation system

Lowest rates available anywhere

Bookings made instantly with the hotel

Receive hotel's own reservation number

Pay the hotel directly

Our service is 100% FREE

LondonTown.com exclusive free extras

Hotel experts with 15 years experience

More about our customer service team