Hotels near Estrella Morente - Autorretrato
Hotels near
Estrella Morente - Autorretrato
All central London hotels
Check-in
Check-out
Guests
1 ADULT
2 ADULTS
1 ADULT, 1 CHILD (2-12 Years)
2 ADULTS, 1 CHILD (2-12 Years)
2 ADULTS, 2 CHILDREN (2-12 Years)
3 ADULTS
4 ADULTS
OTHER CONFIGURATION:

+ another room

Thistle City Barbican Hotel
London
>
Hotels
>
Budget Chain Hotel
from £55

36% off
Central Street, EC1V 8DS |

8 minutes walk from Estrella Morente - Autorretrato




Near to the City, and convenient for the The Barbican arts centre and Moorfields Eye Hospital, this hotel is modern, clean and functional. Equipped with its

More
Hotels near Estrella Morente - Autorretrato
Estrella Morente - Autorretrato

Spanish mega-star Estella Morente plays a date at
the Sadler's Wells Theatre
, performing songs from her newly released fourth studio album for the first time in London. Born to singer Enrique Morente and dancer Aurora Carbonell, the now 32-year-old has been performing on stage since the age of 7 and is known for channeling both her father's singing and her mother's dancing in her powerfully compelling performances.
Images of, and near, Estrella Morente - Autorretrato
Estrella Morente - Autorretrato Estrella Morente - Autorretrato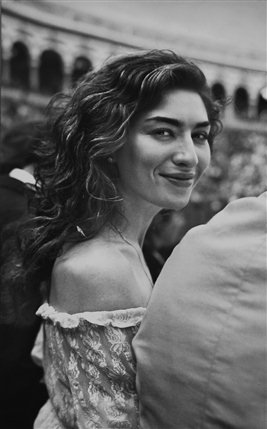 Customer Service - Speak to a London hotel expert

Telephone
From United States:
011 44 207 437 4370
8am to 11pm
Free callback service:
We can call you back

Email
Email a London Expert
Send email

Live Chat
Advisors available now
Chat to a London Expert
Live chat
Speak to a
London Hotel Expert

Telephone
From UK:
020 7437 4370
Free callback service
If you prefer, we can call you back for free:
Call me back

Top rated hotels near Estrella Morente - Autorretrato
Previous customers have given the highest customer satisfaction score to these five hotels near to Estrella Morente - Autorretrato:
9 minutes walk away
Double room from £345
9 minutes walk away
Double room from £174
7 minutes walk away
Double room from £110
5 minutes walk away
Double room from £107
8 minutes walk away
Double room from £66
Nearest hotels to Estrella Morente - Autorretrato
There are 8 recommended places to stay within a 15 minutes walk from Estrella Morente - Autorretrato:
DoubleTree by Hilton London - Islington ( 5 minutes)
Holiday Inn London Kings Cross - Bloomsbury ( 7 minutes)
Thistle City Barbican Hotel ( 8 minutes)
Hilton London Islington Hotel ( 9 minutes)
The Zetter Hotel London ( 9 minutes)
Tune Hotel Kings Cross, London ( 11 minutes)
Citadines London Barbican Apart-Hotel ( 12 minutes)
Atelier EC1 Apartments By Bridgestreet ( 13 minutes)

Connect live to hotels' reservation system

Lowest rates available anywhere

Bookings made instantly with the hotel

Receive hotel's own reservation number

Pay the hotel directly

Our service is 100% FREE

LondonTown.com exclusive free extras

Hotel experts with 15 years experience

More about our customer service team