Hotels near Chloe Edition Anniversaire
Mandeville Hotel London
London
>
Hotels
>
Luxury Chain Hotel
from £100

36% off
Mandeville Place, W1U 2BE |

3 minutes walk from Chloe Edition Anniversaire




At the Oxford Street end of pretty Marylebone village, this hotel earns its 'boutique' label due to its uniquely designed funky interiors. The swanky deVigne bar

More
Hotels near Chloe Edition Anniversaire
Chloe Edition Anniversaire

Celebrating sixty years of French fashion company Chloé,
Selfridges
is hosting a special exhibition throughout March.
Chloé Édition Anniversaire
will see the concept store on the ground floor transformed into an installation that features a series of vintage pieces from the Chloé archives. There will also be videos of the label's most notable fashion shows and a reissue of sixteen key pieces from its widespread history. The reissue pieces will include Karl Lagerfield's violin dress from 1983, Stella McCartney's 2001 pineapple T-shirt and the Paddington Bag, which was introduced by Phoebe Philo in 2005. With all of these iconic pieces available to purchase once more, Chloé fans should be sure not to miss this event. Curated by renowned exhibition maker Judith Clark, this exhibition is a reimagining of the Chloé. Attitudes exhibition in Paris' Palais de Tokyo in 2012.
Images of, and near, Chloe Edition Anniversaire
Chloe Edition Anniversaire Chloe Edition Anniversaire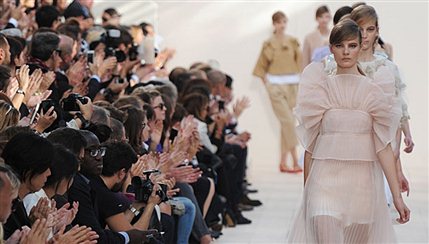 Customer Service - Speak to a London hotel expert

Telephone
From United States:
011 44 207 437 4370
8am to 11pm
Toll free: 1-800-986-9403
Free callback service:
We can call you back

Email
Email a London Expert
Send email

Live Chat
Advisors available now
Chat to a London Expert
Live chat
Speak to a
London Hotel Expert

Telephone
From UK:
020 7437 4370
Free callback service
If you prefer, we can call you back for free:
Call me back

Top rated hotels near Chloe Edition Anniversaire
Previous customers have given the highest customer satisfaction score to these five hotels near to Chloe Edition Anniversaire:
8 minutes walk away
Double room from £142
10 minutes walk away
Double room from £413
9 minutes walk away
Double room from £218
4 minutes walk away
Double room from £85
5 minutes walk away
Double room from £191
Nearest hotels to Chloe Edition Anniversaire
There are 20 recommended places to stay within a 15 minutes walk from Chloe Edition Anniversaire:
Radisson Blu Edwardian Sussex Hotel ( 2 minutes)
Mandeville Hotel London ( 3 minutes)
Marriott Hotel Grosvenor Square ( 3 minutes)
DoubleTree by Hilton London - Marble Arch ( 3 minutes)
Go Native Apartments Mayfair ( 4 minutes)
Radisson Blu Edwardian Berkshire Hotel ( 4 minutes)
Holiday Inn Oxford Circus ( 4 minutes)
Radisson BLU Portman Hotel ( 5 minutes)
The Cumberland Hotel - a Guoman Hotel ( 5 minutes)
Millennium Hotel London Mayfair ( 5 minutes)
Thistle Marble Arch Hotel ( 6 minutes)
Ten Manchester Street Hotel ( 7 minutes)
Montagu Place Hotel London ( 8 minutes)
Langham Hotel London ( 9 minutes)
Park Plaza Sherlock Holmes Hotel London ( 9 minutes)
No 5 Maddox Street London ( 10 minutes)
The Dorchester ( 10 minutes)
Holiday Inn London Mayfair ( 10 minutes)
Chesterfield Mayfair Hotel ( 10 minutes)
The Courthouse Hotel ( 11 minutes)

Connect live to hotels' reservation system

Lowest rates available anywhere

Bookings made instantly with the hotel

Receive hotel's own reservation number

Pay the hotel directly

Our service is 100% FREE

LondonTown.com exclusive free extras

Hotel experts with 15 years experience

More about our customer service team