Hotels near Spaghetti House Marble Arch
FIND YOUR PERFECT LONDON HOTEL
Hotels near
Spaghetti House Marble Arch
All central London hotels
Room 1
Okay
Maximum 4 to a room.
+ Add another room
Most popular hotels near Spaghetti House Marble Arch
Amba Hotel Marble Arch
London
>
Hotels
>
Mid-Range Chain Hotel
from £115

41% off
Bryanston Street, W1H 7EH |

0 minutes walk from Spaghetti House Marble Arch




One of the few hotels overlooking Oxford Street, the new Amba Hotel Marble Arch is just steps away from Hyde Park and the West End, making

More
Find other hotels near Spaghetti House Marble Arch
Hotels near Spaghetti House Marble Arch
Spaghetti House Marble Arch

In true modern caff-ristorante-pizzeria mode, this Spaghetti House (one of many in London, the original having opened 50 years ago) has an inviting open bar area where drinks and relaxed meals area served all day, behind which is a welcoming restaurant area for more formal dining. A handful of outdoor tables encourages relaxing in that irresistible Italian urban style - gossip over a cappuccino, or re-raise your energy levels with a plate of pasta and watch the West End world go by. The familiar menu offers bruschetta, panini, salads, lots of fish dishes, pasta, pizzas, steaks, and delicious home-made desserts. The same warm Italian welcome is extended to diners entertaining at lunch as to those out with friends of an evening.
Images of, and near, Spaghetti House Marble Arch
Spaghetti House Marble Arch Spaghetti House Marble Arch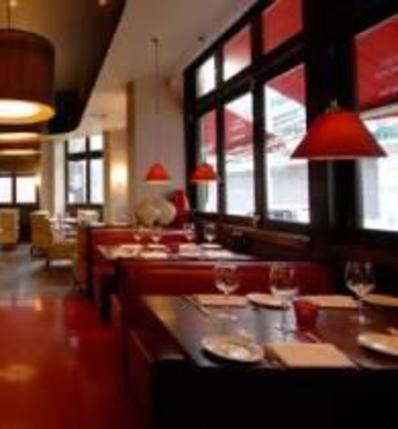 Customer Service - Speak to a London hotel expert

Email
Email a London Expert
Send email

Live Chat
Advisors available now
Chat to a London Expert
Live chat
Speak to a
London Hotel Expert

Telephone
From UK:
020 7437 4370
Free callback service
If you prefer, we can call you back for free:
Call me back

Top rated hotels near Spaghetti House Marble Arch
Previous customers have given the highest customer satisfaction score to these five hotels near to Spaghetti House Marble Arch:
7 minutes walk away
Double room from £249
3 minutes walk away
Double room from £366
9 minutes walk away
Double room from £153
9 minutes walk away
Double room from £80
3 minutes walk away
Double room from £124
Nearest hotels to Spaghetti House Marble Arch
There are 17 recommended places to stay within a 15 minutes walk from Spaghetti House Marble Arch:
Amba Hotel Marble Arch ( 0 minutes)
The Cumberland Hotel - a Guoman Hotel ( 1 minutes)
The Zetter Townhouse Marylebone ( 1 minutes)
DoubleTree by Hilton London - Marble Arch ( 3 minutes)
Hyatt Regency London The Churchill ( 3 minutes)
Radisson BLU Portman Hotel ( 3 minutes)
Radisson Blu Edwardian Sussex Hotel ( 3 minutes)
The Beaumont Hotel ( 6 minutes)
Montagu Place Hotel London ( 7 minutes)
Mandeville Hotel London ( 8 minutes)
Holiday Inn Oxford Circus ( 9 minutes)
Radisson Blu Edwardian Berkshire Hotel ( 9 minutes)
Park Plaza Sherlock Holmes Hotel London ( 10 minutes)
Landmark London Hotel ( 10 minutes)
Norfolk Towers Paddington ( 11 minutes)
Hilton London Metropole Hotel ( 12 minutes)
Hotel Indigo London Paddington ( 12 minutes)

Connect live to hotels' reservation system

Lowest rates available anywhere

Bookings made instantly with the hotel

Receive hotel's own reservation number

Pay the hotel directly

Our service is 100% FREE

LondonTown.com exclusive free extras

Hotel experts with 15 years experience

More about our customer service team