Hotels near Charles Dickens Coffee House
FIND YOUR PERFECT LONDON HOTEL
Hotels near
Charles Dickens Coffee House
All central London hotels
Room 1
Okay
Maximum 4 to a room.
+ Add another room
Most popular hotels near Charles Dickens Coffee House
ME London
London
>
Hotels
>
Luxury Chain Hotel
336-337 The Strand, WC2R 1HA |

1 minute walk from Charles Dickens Coffee House




A luxurious 5-star hotel situated right in the heart of the city, ME London offers guests a lavish accommodation experience. Floor-to-ceiling windows provide the impeccable guestrooms

More
Find other hotels near Charles Dickens Coffee House
Hotels near Charles Dickens Coffee House
Charles Dickens Coffee House

This small and dingy café is located on the ground floor of the building that was the office of Charles Dickens' popular weekly magazine All The Year Round, published in 1859-70. The celebrated Victorian author lodged at rooms above the editorial offices in the late 1860s for a few years before he died in 1870. The Charles Dickens Coffee House obviously dines out on its heritage - but this tourist trap does not have much to recommend except for a few outdoor tables good for Covent Garden people watching in the summer. Fine if you want an over-priced no-frills sandwich, panino or snack (it's average Italian fare), cup of coffee or tea, with a Dickensian backstory - but there are many better places in the area.
Images of, and near, Charles Dickens Coffee House
Charles Dickens Coffee House Charles Dickens Coffee House - Charles Dickens Coffee House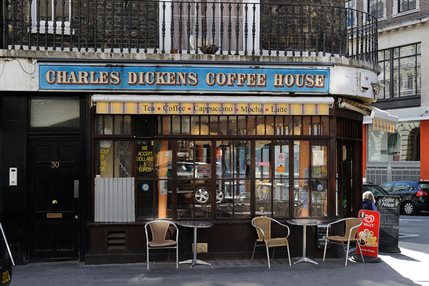 Customer Service - Speak to a London hotel expert

Email
Email a London Expert
Send email

Live Chat
Advisors available now
Chat to a London Expert
Live chat
Speak to a
London Hotel Expert

Telephone
From UK:
020 7437 4370
Free callback service
If you prefer, we can call you back for free:
Call me back

Top rated hotels near Charles Dickens Coffee House
Previous customers have given the highest customer satisfaction score to these five hotels near to Charles Dickens Coffee House:
8 minutes walk away
Double room from £495
9 minutes walk away
Double room from £123
9 minutes walk away
Double room from £88
6 minutes walk away
Double room from £147
6 minutes walk away
Double room from £138
Nearest hotels to Charles Dickens Coffee House
There are 20 recommended places to stay within a 15 minutes walk from Charles Dickens Coffee House:
The Waldorf Hilton Hotel London ( 1 minutes)
ME London ( 1 minutes)
Strand Palace Hotel London ( 1 minutes)
Club Quarters Lincoln's Inn Fields ( 6 minutes)
St Martins Lane, A Morgans Original ( 6 minutes)
Amba Hotel Charing Cross ( 6 minutes)
Radisson Blu Edwardian Mercer Street ( 6 minutes)
Rosewood London ( 8 minutes)
Corinthia Hotel London ( 8 minutes)
Radisson Blu Edwardian Hampshire Hotel ( 9 minutes)
Club Quarters Trafalgar Square ( 9 minutes)
The Trafalgar St. James London, Curio Collection by Hilton ( 9 minutes)
The Grand at Trafalgar Square ( 9 minutes)
Thistle Holborn, The Kingsley ( 9 minutes)
Thistle Trafalgar Square, The Royal Trafalgar ( 9 minutes)
The Royal Horseguards - A Guoman Hotel ( 9 minutes)
Radisson Blu Edwardian Bloomsbury Street Hotel ( 9 minutes)
Apex Temple Court Hotel ( 10 minutes)
Every Hotel Piccadilly ( 10 minutes)
Radisson Blu Edwardian Kenilworth Hotel ( 10 minutes)

Connect live to hotels' reservation system

Lowest rates available anywhere

Bookings made instantly with the hotel

Receive hotel's own reservation number

Pay the hotel directly

Our service is 100% FREE

LondonTown.com exclusive free extras

Hotel experts with 15 years experience

More about our customer service team