Hotels near Clapham Comedy Club @ The Bread & Roses
Hotels near
Clapham Comedy Club @ The Bread & Roses
All Central London hotels
Check-in
Check-out
Guests
1 ADULT
2 ADULTS
1 ADULT, 1 CHILD (2-12 Years)
2 ADULTS, 1 CHILD (2-12 Years)
2 ADULTS, 2 CHILDREN (2-12 Years)
3 ADULTS
4 ADULTS
OTHER CONFIGURATION:

+ another room

Dolphin House Serviced Apartments
London
>
Hotels
>
Apartment
from £62

41% off
Dolphin Square, SW1V 3LX |

27 minutes walk from Clapham Comedy Club @ The Bread & Roses




Dolphin House is a wonderfully quiet spot.The tranquillity is all the more surprising given its close proximity to Victoria, making it convenient for Westminster and Tate

More
Hotels near Clapham Comedy Club @ The Bread & Roses
Clapham Comedy Club @ The Bread & Roses

Resident comperes Leanne Scott and Sion James host monthly shows (usually on the first Thursday of every month) in this wonderfully friendly and intimate comedy club at the Bread & Roses pub in Clapham. Big names like Micky Flanagan, Stephen Merchant, Sean Hughes, Danny Bhoy and Nick Helm have all taken to the Clapham Comedy Club stage here while recent performers include Isy Suttie, Tom Wrigglesworth, Sara Pascoe, John Gordillo and Henry Parker. Compere Sion James is a "loveable giant" (Time Out) renowned for his expert riffs and compelling ability to interact with the audience without putting people on the spot or making them feel awkward. As well as the monthly shows there are the odd one-off comedy nights put on in the name of a good cause or for a special occasion - so keep checking www.claphamcomedyclub.co.uk for full listing details. The Bread & Roses pub is spread out over three floors and boasts a decent beer garden. It's run by a trades union council and affiliated to the Worker's Beer Company, with a function room hosting an array of live music and jazz events as well as this top comedy night. Tickets cost £7 in advance or £9 on the door with the show starting at 8.30pm. There are happy hour prices from 4.30pm until 8pm ahead of comedy nights, with the bar staying open until midnight. Bar food is also available - while the audience are all given free lollipops. What's not to like?
Images of, and near, Clapham Comedy Club @ The Bread & Roses
Clapham Comedy Club @ The Bread & Roses Clapham Comedy Club @ The Bread & Roses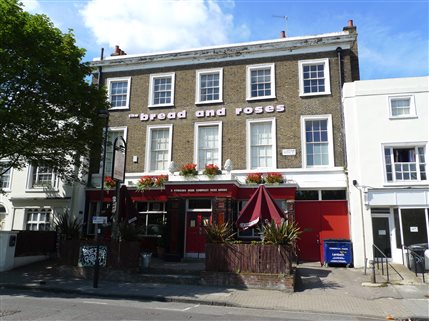 Customer Service - Speak to a London hotel expert

Telephone
From United States:
011 44 207 437 4370
8am to 11pm
Toll free: 1-800-986-9403
Free callback service:
We can call you back

Email
Email a London Expert
Send email

Live Chat
Advisors available now
Chat to a London Expert
Live chat
Speak to a
London Hotel Expert

Telephone
From UK:
020 7437 4370
Free callback service
If you prefer, we can call you back for free:
Call me back


Connect live to hotels' reservation system

Lowest rates available anywhere

Bookings made instantly with the hotel

Receive hotel's own reservation number

Pay the hotel directly

Our service is 100% FREE

LondonTown.com exclusive free extras

Hotel experts with 15 years experience

More about our customer service team