Hotels near The Portrait Restaurant & Bar
Hotels near
The Portrait Restaurant & Bar
All central London hotels
Check-in
Check-out
Guests
1 ADULT
2 ADULTS
1 ADULT, 1 CHILD (2-12 Years)
2 ADULTS, 1 CHILD (2-12 Years)
2 ADULTS, 2 CHILDREN (2-12 Years)
3 ADULTS
4 ADULTS
OTHER CONFIGURATION:

+ another room

Every Hotel Piccadilly
London
>
Hotels
>
Mid-Range Chain Hotel
from £96

26% off
Coventry Street, W1D 6BZ |

1 minute walk from The Portrait Restaurant & Bar




Located right next to Leicester Square, in the heart of London's West End, the Every Hotel Piccadilly is the perfect hotel for those wanting to enjoy

More
Hotels near The Portrait Restaurant & Bar
The Portrait Restaurant & Bar

At the top of the National Portrait Gallery, The Portrait Restaurant and Bar is renowned as one of London's most desirable dining venues. With sweeping panoramic views across Trafalgar Square and irresistible British cuisine, The Portrait Restaurant provides an unforgettable and unique dining experience. Set 92 feet above ground level - on the third floor of the Gallery's Ondaatje wing - The Portrait Restaurant and Bar features a sleek and stylish dining area with a contemporary decor and wooden floors. The highlight of the interior design is the striking wall of windows, enticing diners to enjoy stunning views of London's famous landmarks. From here, you can enjoy a fine meal whilst looking out at Whitehall, the Houses of Parliament, Big Ben, the London Eye and, naturally, Nelson's Column. A work of art in itself, the menu has been carefully crafted by Head Chef Katarina Todosijevic to showcase popular culinary creations. Some of the main courses available include the Lamb Cutlets, Organic Salmon, Baked Whole Plaice, and Courgette, Leek and Lemon Risotto. A delectable afternoon tea is also served daily, whilst the bar offers a choice of snacks with an exciting cocktail list and wine menu.
Images of, and near, The Portrait Restaurant & Bar
The Portrait Restaurant & Bar The Portrait Restaurant & Bar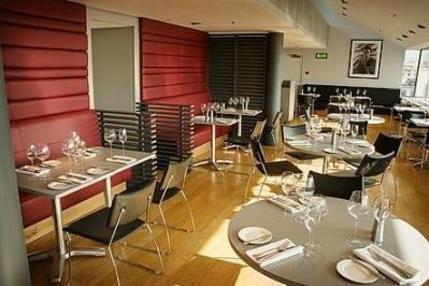 Customer Service - Speak to a London hotel expert

Telephone
From United States:
011 44 207 437 4370
8am to 11pm
Toll free: 1-800-986-9403
Free callback service:
We can call you back

Email
Email a London Expert
Send email

Live Chat
Advisors available now
Chat to a London Expert
Live chat
Speak to a
London Hotel Expert

Telephone
From UK:
020 7437 4370
Free callback service
If you prefer, we can call you back for free:
Call me back

Top rated hotels near The Portrait Restaurant & Bar
Previous customers have given the highest customer satisfaction score to these five hotels near to The Portrait Restaurant & Bar:
5 minutes walk away
Double room from £917
7 minutes walk away
Double room from £1800
1 minutes walk away
Double room from £140
1 minutes walk away
Double room from £135
7 minutes walk away
Double room from £113
Nearest hotels to The Portrait Restaurant & Bar
There are 20 recommended places to stay within a 15 minutes walk from The Portrait Restaurant & Bar:
Radisson Blu Edwardian Hampshire Hotel ( 0 minutes)
Thistle Trafalgar Square, The Royal Trafalgar ( 1 minutes)
Every Hotel Piccadilly ( 1 minutes)
St Martins Lane, A Morgans Original ( 3 minutes)
The Grand at Trafalgar Square ( 4 minutes)
Club Quarters Trafalgar Square ( 4 minutes)
The Trafalgar Hotel London ( 4 minutes)
Amba Hotel Charing Cross ( 5 minutes)
Cafe Royal Hotel ( 5 minutes)
Le Meridien Piccadilly ( 6 minutes)
Radisson Blu Edwardian Mercer Street ( 6 minutes)
Corinthia Hotel London ( 6 minutes)
Cavendish London Hotel ( 7 minutes)
The Royal Horseguards - A Guoman Hotel ( 8 minutes)
Strand Palace Hotel London ( 8 minutes)
The Waldorf Hilton Hotel London ( 10 minutes)
The Bloomsbury Hotel London ( 10 minutes)
ME London ( 10 minutes)
St. James's Hotel & Club London ( 10 minutes)
The Courthouse Hotel ( 10 minutes)

Connect live to hotels' reservation system

Lowest rates available anywhere

Bookings made instantly with the hotel

Receive hotel's own reservation number

Pay the hotel directly

Our service is 100% FREE

LondonTown.com exclusive free extras

Hotel experts with 15 years experience

More about our customer service team