Hotels near Crossrail Place Roof Garden
FIND YOUR PERFECT LONDON HOTEL
Hotels near
Crossrail Place Roof Garden
All central London hotels
Room 1
Okay
Maximum 4 to a room.
+ Add another room
Most popular hotels near Crossrail Place Roof Garden
Canary Riverside Plaza Hotel
London
>
Hotels
>
Luxury Chain Hotel
from £198

24% off
46 Westferry Circus, E14 8RS |

8 minutes walk from Crossrail Place Roof Garden




The Canary Riverside Plaza Hotel contains spacious, luxurious rooms and suites with every comfort available, including a giant marble bath, two-line speaker phones and stunning walnut

More
Find other hotels near Crossrail Place Roof Garden
Hotels near Crossrail Place Roof Garden
Crossrail Place Roof Garden

With its semi open-air timber lattice roof the Crossrail Place Roof Garden on top of the Crossrail station in Canary Wharf provides a welcoming public space, a place of calm and tranquility between the residential neighbourhood of Poplar and the business district of Canary Wharf. Like the building below it, the gardens that top the seven-storey station have been designed by Foster + Partners. Referencing the area's maritime heritage, many of the plant species that feature in the garden are indigenous to countries that were explored during the 19th century by trading shops that used the docks in Canary Wharf. The roof garden is open to the public from dawn until dusk and unlike the Sky Garden in the City you don't have to book in advance to go there. For the first few months, from May to August 2015, a summer programme of performance and activity is laid on at the 50-seat Performance Space, overseen by local theatre company the Space Theatre based in nearby Isle of Dogs.
Images of, and near, Crossrail Place Roof Garden
Crossrail Place Roof Garden Crossrail Place Roof Garden - (c)Foster and Partners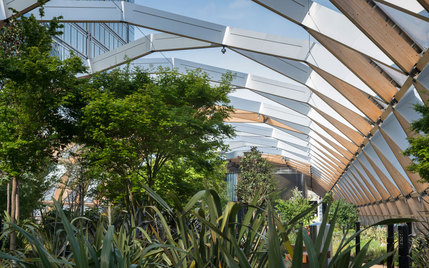 Customer Service - Speak to a London hotel expert

Email
Email a London Expert
Send email

Live Chat
Advisors available now
Chat to a London Expert
Live chat
Speak to a
London Hotel Expert

Telephone
From UK:
020 7437 4370
Free callback service
If you prefer, we can call you back for free:
Call me back

Top rated hotels near Crossrail Place Roof Garden
Previous customers have given the highest customer satisfaction score to this one hotel:
6 minutes walk away
Double room from £99
Nearest hotels to Crossrail Place Roof Garden
There are 4 recommended places to stay within a 15 minutes walk from Crossrail Place Roof Garden:
Hilton London Canary Wharf Hotel ( 6 minutes)
Canary Riverside Plaza Hotel ( 8 minutes)
DoubleTree by Hilton Hotel London - Docklands Riverside ( 12 minutes)
Radisson Blu Edwardian New Providence Wharf ( 12 minutes)

Connect live to hotels' reservation system

Lowest rates available anywhere

Bookings made instantly with the hotel

Receive hotel's own reservation number

Pay the hotel directly

Our service is 100% FREE

LondonTown.com exclusive free extras

Hotel experts with 15 years experience

More about our customer service team