Hotels near Everyman Canary Wharf
FIND YOUR PERFECT LONDON HOTEL
Hotels near
Everyman Canary Wharf
All central London hotels
Room 1
Okay
Maximum 4 to a room.
+ Add another room
Most popular hotels near Everyman Canary Wharf
Canary Riverside Plaza Hotel
London
>
Hotels
>
Luxury Chain Hotel
from £200

39% off
46 Westferry Circus, E14 8RS |

8 minutes walk from Everyman Canary Wharf




The Canary Riverside Plaza Hotel contains spacious, luxurious rooms and suites with every comfort available, including a giant marble bath, two-line speaker phones and stunning walnut

More
Find other hotels near Everyman Canary Wharf
Hotels near Everyman Canary Wharf
Everyman Canary Wharf

The Everyman Cinema on level 2 of Crossrail Place - the brand's fifth cinema in the capital - sits within the six storey Canary Wharf Crossrail station. Launched in May 2015, with a showing of Pitch Perfect 2 and Mad Max: Fury Road, the cinema shows national releases as well as its own specially selected films across its three screens and boasts armchair seating as well as top-of-the-range Sony 4K digital technology and Dolby integrated sound.
Images of, and near, Everyman Canary Wharf
Everyman Canary Wharf Everyman Canary Wharf - Nunzio Prenna (c) www.69drops.com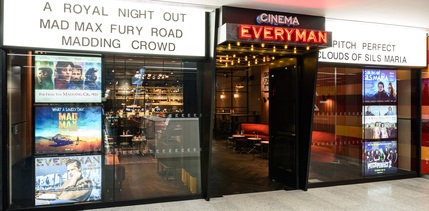 Customer Service - Speak to a London hotel expert

Email
Email a London Expert
Send email

Live Chat
Advisors available now
Chat to a London Expert
Live chat
Speak to a
London Hotel Expert

Telephone
From UK:
020 7437 4370
Free callback service
If you prefer, we can call you back for free:
Call me back

Top rated hotels near Everyman Canary Wharf
Previous customers have given the highest customer satisfaction score to this one hotel:
6 minutes walk away
Double room from £99
Nearest hotels to Everyman Canary Wharf
There are 4 recommended places to stay within a 15 minutes walk from Everyman Canary Wharf:
Hilton London Canary Wharf Hotel ( 6 minutes)
Canary Riverside Plaza Hotel ( 8 minutes)
DoubleTree by Hilton Hotel London - Docklands Riverside ( 12 minutes)
Radisson Blu Edwardian New Providence Wharf ( 12 minutes)

Connect live to hotels' reservation system

Lowest rates available anywhere

Bookings made instantly with the hotel

Receive hotel's own reservation number

Pay the hotel directly

Our service is 100% FREE

LondonTown.com exclusive free extras

Hotel experts with 15 years experience

More about our customer service team